Tournament Details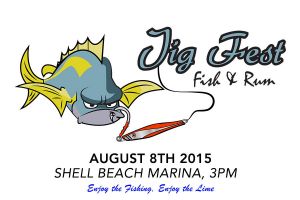 CAPTAINS BRIEFING
Friday 4th September 2015 at NIXX bar Shell Beach Marina at 6.30 pm. MUST REGISTER THERE ONLY.
Entrance is EC$ 300.00 per boat.
Coordinates for

fads which are mandatory to fish on will be given on that evening.
Full list of crew members are to be submitted with registration.
Four free drinks for Cavalier Rum ONLY will be given with registration and can be redeemed at

Nixx

bar.
Free dockage (until 10 am Sunday) and water.
RULES
Lines in at 5am and back into Shell Beach Marina at 3pm.
Only jigging

,

chunking

and casting

are permitted.
You can only use live or cut bait caught by jigging

or casting

around the fad. YOU CANNOT CARRY YOUR BAIT FROM SHORE.
All chunking

,

jigging

and casting

must be with a rod and reel

maximum

line test 80 lbs.
Minimum weight for fish is 10 lbs.
No marlin and barracuda allowed.
All boats must stand by on 06.
PRIZES
All entrants names will be placed in a box and this will be raffled at 8pm on Saturday night. There will be 6 prizes. YOU MUST BE THERE TO WIN A PRIZE.
Largest fish by a Male or Female is a Trophy and EC$500.00
Most Poundage is a Trophy and EC$500.00
Largest fish by a Female angler Trophy and a pair of Maui Jim Sunglasses.
All Juniors 16 and under will receive a trophy from Outdoor World
ENTERTAINMENT
DJ

Tanny

Rose
Carib

Beer Drinking Competition at 5.30 pm. Winner gets

a pair

of Maui Jim Sunglasses.
$5.00 Cavalier and

Carib

beer.
Prize Giving at 7.30pm.
Food and Drinks on sale at NIXX bar and restaurant.