The 2022 54th Annual Antigua & Barbuda Sport Fishing Tournament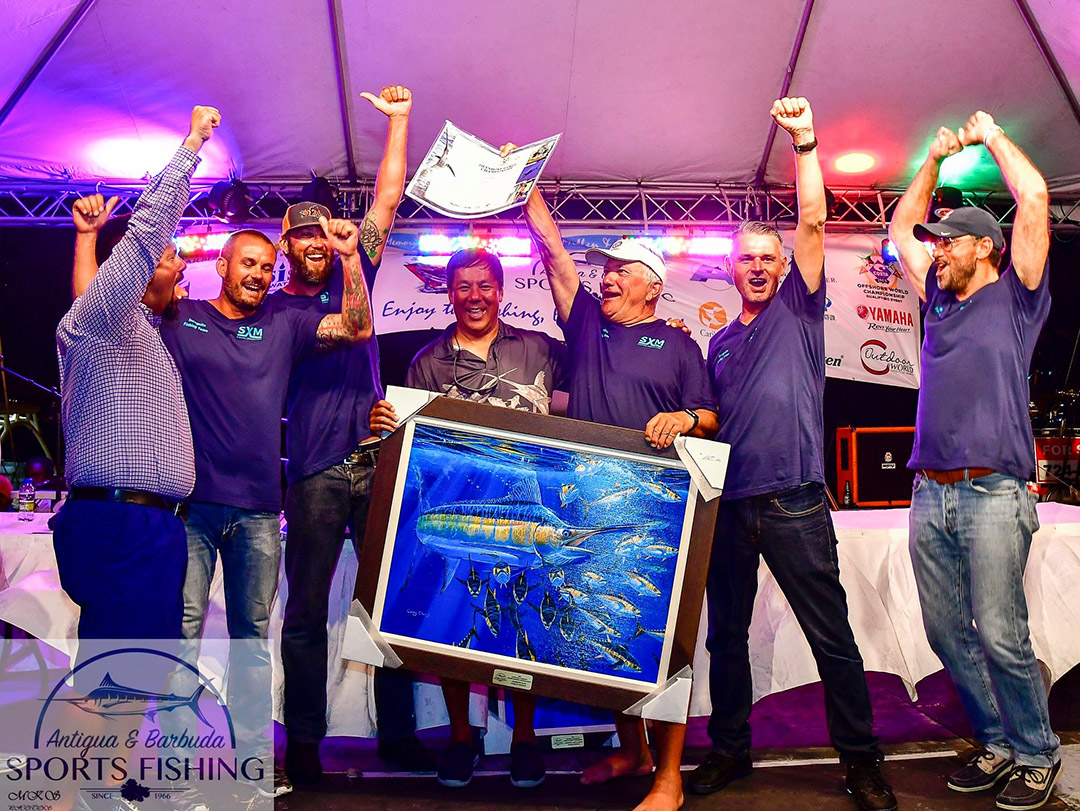 Registration Deadline:
June 3rd, 2022 at the Falmouth Harbour Marina

Captains Briefing:
June 3rd, 2022 @ 7:00pm at Falmouth Harbour Marina

Tournament Date:
June 4th & 5th, 2022

Tournament Info:
The Antigua & Barbuda Sports Fishing Club (ASF) invites all regional and international Sports Fishing Anglers to the 54th Annual Antigua & Barbuda Sports Fishing Tournament to be held at our New Location, the Falmouth Harbour Marina, on June 2nd – 5th 2022.

Having missed two years due to the pandemic, we are looking forward to welcoming all the anglers from near and far to a whole new location, filled with the amazing atmosphere you have always experienced, or perhaps wish to experience for the first time. The close proximity from the Falmouth Harbour Marina to the prime fishing grounds in the southern part of Antigua means you are not far from the action happening offshore or on the dock.

Assemble your team, check your equipment, register online and fuel up the boat, it's time to Enjoy the Fishing, Enjoy the Lime.
Headquarters
The Official Tournament Headquarters and Weighing in Station will be in Falmouth Harbour Marina. All Boats (Foreign & Local) must be at the port of Falmouth Harbour Marina NO LATER THAN FRIDAY 3th June AT 6PM. All boats will leave and return to Falmouth Harbour Marina for the tournament.

Tournament Times & Days
| | | | | |
| --- | --- | --- | --- | --- |
| | Bimini Start | Lines In | Lines Out | In by |
| Saturday 4th June | 6.00am | 6.30am | 4.30pm | 6.30pm |
| Sunday 5th June | | 5.30am | 4.00pm | 6.00 pm |
Any boat hooked up and reported fighting before 4:30pm
on the first day

, has until Midnight to return to port.



Fuel
Diesel will be available for both Local and Overseas Boats at Falmouth Harbour Marina.

Gasoline will be available for both Local and Overseas Boats at Antigua Slipway Fuel Dock, English Harbour.
The Fuel Times for Antigua Slipway will be as follows:
Thursday 2nd & Friday 3rd June between 7AM & 7PM.
Saturday 4th & Sunday 5th June 4:30PM to 7PM.
Monday 6th June 8AM to 9:30AM.
Catch and Release
For releases points to be awarded, ALL billfish caught & released must be authenticated by Video ONLY. No photos will be accepted.
Videos should be of the RELEASE and can be presented to the ASF judges either via a digital camera or cell phone, and a member of the crew must have the correct Number Card issued by ASF Radio present & clearly visible in the video.
Videos must be submitted to the ASF Booth where the videos will be reviewed by the committee for inclusion in the final points allocations.

Garbage
Disposing of Garbage at sea is a serious offence and grounds for disqualification. Please use the bags provided by the committee and follow their instructions for storage.

Fish
All fish except Marlin brought to the scales will be bought by the committee at weight less 15% X EC$5.00 per pound. Marlin will be bought at weight less 15% X EC$3:00 per pound.
Payments will be made by cheques or wire transfer (for overseas boat) upon request to Philip Shoul (268)726-4700 and after the Price Giving Ceremony which officially conclude the tournament. The association will not assume responsability for any boats not collecting their payment cheque within the shelf life of the cheque (6 months). The uncollected money will be considered as a "Club Donation".
Fish Stall
Fish will be sold by the committee at their fish stall at EC$15.00 per pound for fish whole, cleaned and gutted; or sliced by the pound for EC$15.00.
Entering the ASF from another country?
Here's what you must know! PLEASE BE AWARE!

EVERY CREW MEMBER & PASSENGER ONBOARD MUST HAVE HIS/HER VALID PASSPORT. No other form of ID will be accepted. Boats who fail to comply will be asked to return to their home port immediately. NO ACCEPTIONS WILL BE MADE.

Please visit Eseaclear.com to process your details to gain entry to the island.
Antigua & Barbuda Sport Fishing Club Records
Blue Marlin - 771 1/4lbs
White Marlin - 123 1/2lbs
Sailfish - 59 3/4lbs
Yellowfin Tuna - 176 3/4lbs
Wahoo - 79 1/2lbs
Dolphin - 62 1/2lbs
Kingfish - 78 3/4lbs